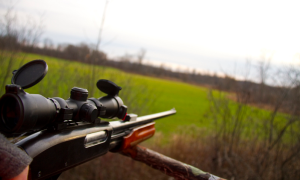 Earplugs for Hunting
Ah the season of fall – a time for pumpkins, scary movies, football, and cuddling up on the couch with a warm cup of coffee. Autumn is a great time for all of these things, and depending on the wildlife in your region, a great time to go hunting too! When you're out in nature, lining up your rifle for the perfect shot, you want to be sure your ears are protected from the loud noise your firearm will make. The right earplugs can protect your ears without being bulky or uncomfortable – capable of being used for a full morning's hunt without bothering you. Here at Mighty Plugs we specialize in a moldable earplug that gets the job done at a great price.
Ear Protection While on the Hunt
In the world of hunting you are often forced to wait a long time in a hidden location in order to get the right shot. If you are waiting, crouched, prone, or otherwise, and you have any distractions or interruptions to your concentration it can spell the difference between a successful hunt or a wasted opportunity. Don't miss the chance to take the shot, use the earplugs that have aided many people before, the trusted earplugs from Mighty Plugs that get the job done every time. Trust the best ear plug on the planet – why would you wear anything else?!