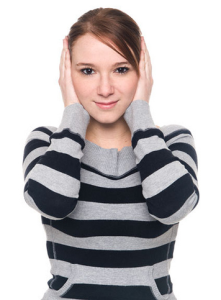 A Problem That Only Appears to be Getting Worse
When people talk about earplugs, most of the attention seems to go to adults. Grownups, shooting, swimming, driving, or even sleeping…everyone can use a pair. And yet, the one group who desperately needs them frequently go without. Teenagers, especially teenagers who attend live music shows, loud parties or those who participate in any kind of musical performance, must wear earplugs to prevent hearing damage.
The problem is widespread. Associate professor of pediatric otolaryngology at Seattle Children's Hospital, Dr. Henry Ou recently told the Chicago Tribune "[doctors]…are seeing a rise in the number of adolescents with hearing damage." If this issue is not addressed soon, it could spell very bad things for future generations, in addition to pronounced immediate consequences.
Get Serious About a Solution: Mighty Plugs
The cause? Music…sound… is louder, better amplified and more available than ever before. And teenagers are typically unaware of the risks before it's too late. The solution? Talk with your kids. Make earplugs a mandatory part of band practice or concert attendance. Pick up a few extra pairs to have in their backpacks, cars and purses. With free shipping and our 100% satisfaction guarantee, our earplugs are comfortable, inexpensive, and fit any wearer. When it comes to your children, don't take a chance. Give them the gift of hearing for a lifetime with Mighty Plugs .